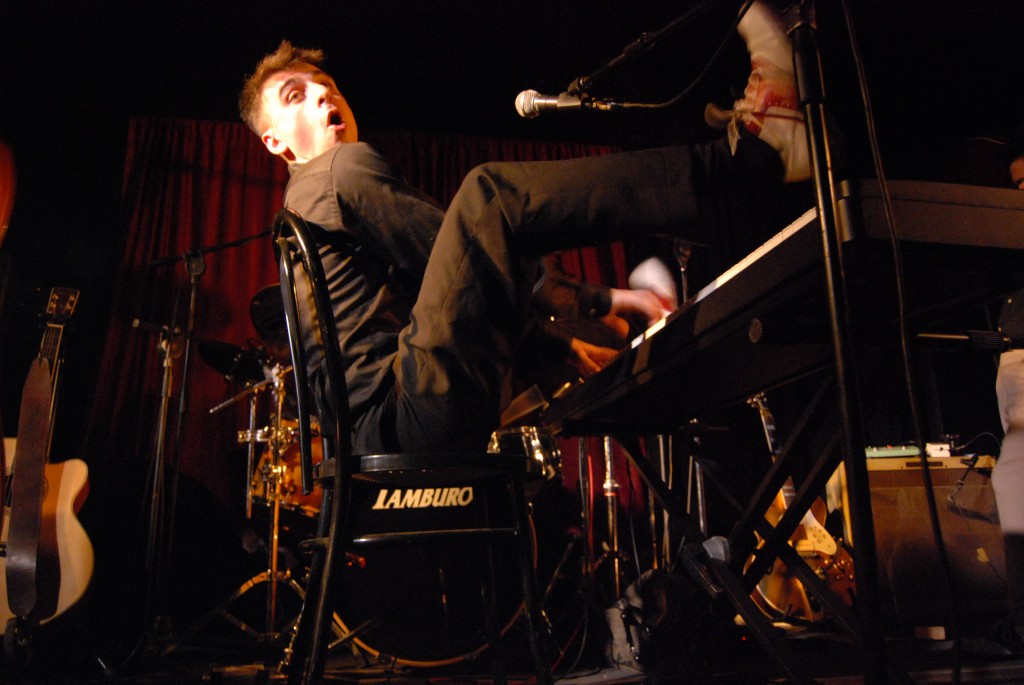 Pour écouter des démos ou visionner des vidéos: http://www.antoniosorgentone.com/
Antonio Sorgentone is a singer and pianist who is considered among the best of his genre in Italy. His repertoire consists of 50's R'n'R, boogie woogie, original songs and classic Italian swing by some of the greats of the past such as Renato Carosone and Fred Buscaglione.
Thanks to his on-stage charisma and his technical abilities he is able to win over all kinds of audiences during his performances, and he has played in over 600 concerts in Italy and other European countries such as SWEDEN, FINLAND,FRANCE,GERMANY BELGIUM and SWITZERLAND.
He has collaborated with artists such as:
-Marvin Rainwater (USA)and Hayden Thompson (USA)
of the legendary Sun Records, two living legends of country and rockabilly, with whom he played on the main stage of the Summer Jamboree 2009 together with The Adels
-Greg (ITA)
a Roman entertainer well known for his performances with Lillo and for TV programmes such as Le Iene, Telenauta 69, Bla Bla Bla and L'ottavo nano
-Boppin Steve (SWE)
with whom he played in Sweden in 2009 with two pianos, with the two musicians challenging each other to an "on a stage duel"
- Clem Sacco (ITA)
with whom he played on the stage of the Summer Vintage Rock and Roll Festival in 2012 together with The Adels
-IZZY AND THE CATASTROPHICS (USA)
-DALE ROCKA AND THE VOLCANOES (ITA)
-DON DIEGO TRIO (ITA)
-LADY FLO (FR) 
In 2011 he supported a concert of THE SONICS (USA), and in 2012 he supported a concert of BRYAN SETZER (USA) together with the Adel's (ITA).
He played in the Helsinki Rockabilly Week, Finland 2012.
Resident band in MICCA CLUB, well know club in Rome, from 2009 to 2011.
In 2012 he composed the soundtrack of the film "La Patente" (The Driving Licence) by Alessandro Palazzi with the following original pieces: Felicità, Come Back to Me and My Sweet Hot Baby, as well as the advertising for the French game Roulettabille, which featured his original piece: Pete, Pete.