Pour écouter ou visionner des vidéos: https://www.facebook.com/dondiegoproject
DON DIEGO featuring the deep voice and the flying guitar of the Adels They say about him…..Jim Heat (Reverend Horton Heat): Diego is a ripping guitar player!!!
Mark Harman (Restless, Space Cadets): I first met Don Diego about four years ago when he invited me to come to Italy to play with his band the Adels.
I'd already heard about this red hot guitarist and vocalsit from Sicily throught the Rockabilly Grapevine and I was happy to go out and stand toe to toe with him and play some good Rock 'n' Roll.
I was amazed at just how great the band was...it was easy for them to play whatever I wanted to play..............but I was even more amazed at the incredible talent that is Don Diego.
As good a guitar man as anybody in the world, he is a true musician with his own untouchable style.
He is also true to his music, which when you hear, you will instantly realise comes directly from his heart.
Chris Casello (Nashville's telemaster): I have worked with Don Diego he is a dedicated musician who can bring fire and humor into both his show and his playing.
He's good, perhaps a little too good. Truly a guitar threat from Sicily!
So rockabilly, country, western swing, blues and surf meet the typical "Italian taste" of the 39 years old Sicilian guitarist.
During the show you will hear Diego's favorite songs, along with some of his most famous compositions.
You will enjoy the compact sound of a tight rhythm section and always danceable, together with the virtuosity of the leader. A show by dancing, but also to savor seated.
Diego had a busy summer, made many concerts, and also did backing band for various artists, he will take a break during the 2014 fall to record his solo album, full of self penned tracks and some jems from his heroes.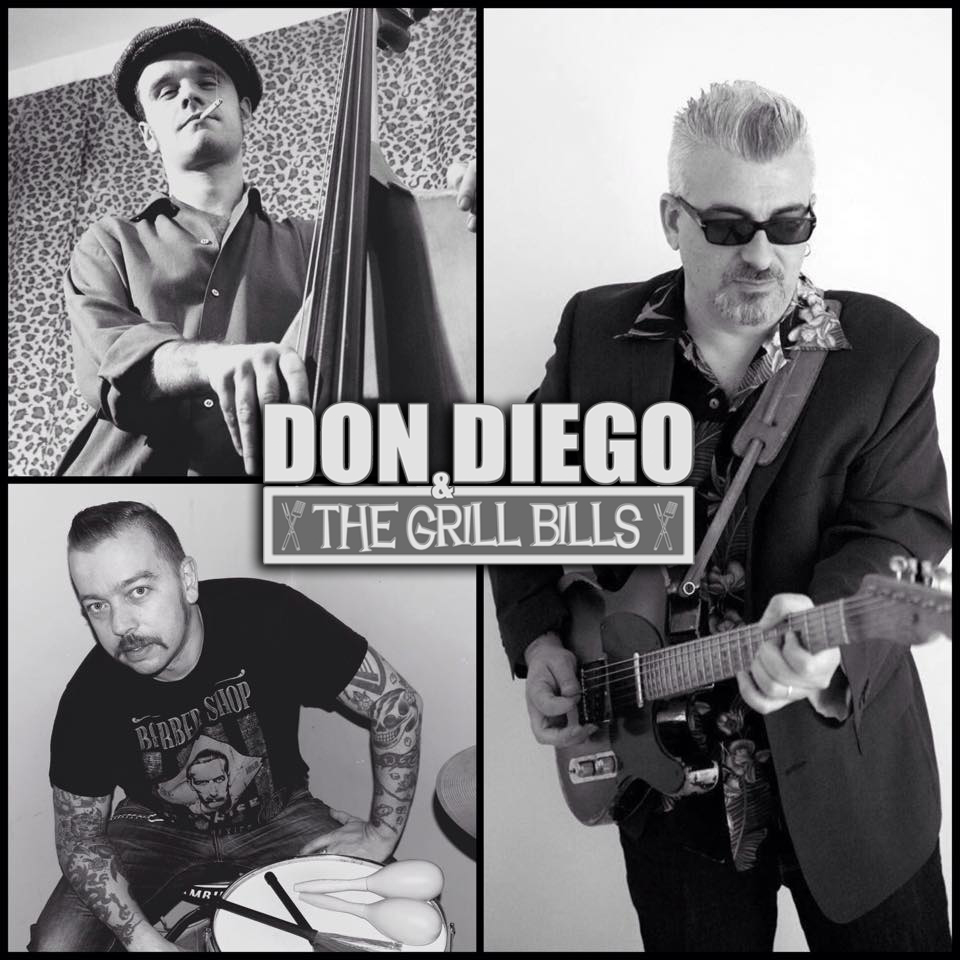 Biographical notes: Diego, born in 1975, began playing classical guitar very young (in 1986), then move on, like all his peers grew up in the early 90s, to rock first, and blues then.
In 1994 he founded the Adels, first as a power trio oriented to a rockin 'Texas blues sound, then, over the years, in a neo-rockabilly known and appreciated throughout Europe.
He plays with them until the early months of 2014, when he decided to pursue his own projects.
He's also a master of swing manouche and traditional rockabilly (the first kind played along with the "Golden Era Quartet" and the second with the drumless trio "Rockin' D and the Fabulous Roosters").
Over the years he has performed with a myriad of artists, such as Ray Campi, Hayden Thompson, Slim Jim Phantom, Marvin Rainwater, Mark Harman, Mouse Zinn, Jimmie Lee Maslon, Levi Dexter, Rip Masters, Pep Torres, Go Getters, Jake Allen, Clem Sacco, Andy J. Forest, Rockin 'Bonnie, Dave Phillips, Chris Casello, John O'Malley, Tony Marlow, Micky NoRelax, Violetta Zironi, Antonio Sorgentone, James Thompson, Herbie Goins, Rudy Rotta, Acappella Swingers, Francois and many many… others!
He has played in some of the biggest festival of the scene and not (Good Rockin 'Tonight FR, Walldorf Rockabilly Weekend DE, Rockabilly Convention DE, Highschooll Hop SW, Shut Up and Bop DE, Summer Jamboree IT, Jamboree City DE, Pistoia Blues IT, Custom Party IT, Rock and Roll Party IT, Maverick IT, Kustom Weekend IT, 10 Giorni Suonati IT, Summer Vintage IT, Rome Rockabilly Festival IT.. and many, too many others to be appointed all).
Present in all the major European clubs of live music, and in the most prestigious music festivals of the Italy.
He has done several times as opening act for artists of the highest level, such as Brian Setzer (Rockabilly Riot Tour 2011), Reverend Horton Heat (Custom Party 2013), BB King (Italian Tour 2002), Johnny Winter (Pistoia Blues 2003), Jethro Tull (Pistoia Blues 2003), Paladins (Summer Jamboree 2013), Nekromantix (Custom Party 2014), Restless (too many times!), Go Getters (even with them too many times to remember), The Jets (many times), Dave Phillips and the Hot Rod Gang (several times), Space Cadets (Farewell Show); was often invited on stage by the same headliner for memorable jam sessions (like the one with the Reverend Horton Heat or with the Restless, youtube is full of videos that testify their burnig jam sessions).
Host of the "Guitar Killers Show" in France (along with Chris Casello and Tony Marlow) in 2013 and re-elected for the year 2014 to that of 2015, as "master of ceremonies" to conduct a show with Marco Di Maggio, Jussi Huntakangas and many others.
He was invited by the supreme Deke Dickerson to take part in the first European Guitar Geek.
He was also invited by the famous Go Getters as an additional guitarist for their tribute show to Ronnie Dawson (a hero for Diego and Peter, the GoGetters' leader).
Cares a blog (dondiego75.blogspot.it) where to talk about rockabilly guitar (with interviews, articles, reviews, and video lessons). He's also the artistic director of several festivals in south-central Italy and creator of the "Guitar Friendzy", an exhibition dedicated to the instrument craft and vintage in Sicily.
He's also member of the "house band" in different festival all over his country.
He has recorded several cds with the Adels (13 to be exact) and has an experience of almost 200 live shows a year.